I'm pleased to report that hospital volumes continue to increase as community members resume regular medical care and choose elective procedures as Covid-19 concerns diminish. Although not yet back to pre-Covid levels, hospital services have seen an increase in recent months, according to reports at last week's board meeting.
Hospital's Outpatient Services Critical For Our Community
One area experiencing growth is outpatient services, reported the hospital's Chief Ancillary Officer, Dawn Kuwahara RN BSN. Ancillary (Outpatient) Services are an essential part of the services SVH provides our community, and includes Laboratory, Rehabilitation and Cardiopulmonary services, and Wound Care and Occupational Health, which serves employees from many leading employers in our region. It also includes Patient Access and Admitting, and oversight of the hospital's two physician clinics.
Kuwahara noted that as healthcare overall has moved from inpatient to outpatient care, the hospital has expanded and improved its outpatient services, including construction of the new Outpatient Diagnostic Center, which is bringing enhanced imaging technology to the hospital.
She noted that Ancillary Services was an important contributor to the hospital's early Covid-19 response as its staff operated the drive-through clinic that provided around 4,600 Covid tests early in the pandemic, as well as staffing a community information hotline that received hundreds of calls.
Kuwahara reported that patients are highly satisfied with the hospital's outpatient services. Of the several thousand people responding to a survey in the past year, patients rated Medical Imaging, Outpatient Rehabilitation and Cardiopulmonary services between 4.8 and 4.9 on a 5.0 scale.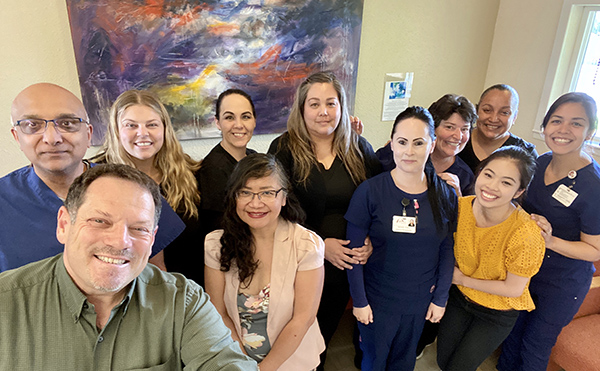 Finance Committee Updates
The board confirmed the appointments of Catherine Donahue and Carl Gerlach to the Board's Finance Committee. Both are local residents.
Donahue brings considerable financial operations experience to the committee as a CPA who has spent much of her career in senior management positions with several multinational corporations, including McKesson Corporation, a leader in health services and pharmaceuticals. She also has served as controller for several large corporations.
Gerlach has more than 40 years' experience in healthcare, both in senior management and as a consultant to large and small hospitals. He has held CEO or CFO positions at several hospitals in Northern California, including serving as the CEO of Sonoma Valley Hospital from 2007 to 2010 where he was involved in passing the $35 million bond financing extensive upgrades to the hospital to meet seismic standards.
The Finance Committee, chaired by board member Bill Boerum, deserves our thanks for bringing new expertise to the committee. The two appointments follow the May addition of Wendy Lee Myatt to the committee. Myatt, a long-time Sonoma resident, recently retired after many years at Kaiser Permanente where she held several senior-level positions.
In a separate action, the board approved a resolution to undertake refinancing of the $35 million in general obligation bonds to enable the hospital to finance seismic mandates and the expansion of the west wing of the hospital. This move, as I mentioned last month, has the potential to save District taxpayers a substantial amount of money because of lower interest rates.
Next Board Meeting
The next regular District Board meeting will be held on Thursday, August 5, at 6 pm. Due to precautions regarding the coronavirus, Board meetings will continue to be held via video conferencing for the near future. The public is encouraged to participate, and video conferencing details are available on the Hospital website. Public comment is always welcome.
Sincerely,
Joshua
Joshua Rymer
Chair of the SVHCD Board of Directors