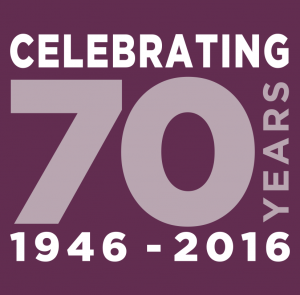 Sonoma Valley Hospital will open its doors on Saturday, June 11, 2016, to celebrate the Sonoma Valley Health Care District's 70th Anniversary. Sonoma Valley residents are invited to come by between 10:00 am and 2:00 pm to learn more about their Hospital and enjoy the family-oriented festivities which include tours, lunch, live music and a street party with fun activities for children.
Beginning at 10:30 am, Hospital staff will conduct guided tours of non-patient-occupied areas every half-hour, including a special look inside the new Surgery Center, the Radiology Department, The Birthplace, and Cancer Support Sonoma, the support program begun last year for cancer patients.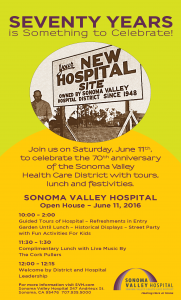 From 11:30 to 1:30, visitors are invited to enjoy a complimentary lunch and listen to the lively music of The Cork Pullers, Sonoma's own acoustic vocal band. Hospital and District leaders will welcome guests with a few words at noon.
Accenting the historical theme, the Hospital plans several displays depicting its history and role in Sonoma, reaching back to its earliest presence when the hospital was located in the home of a nurse and her husband on Burndale Road, and then in the building which currently houses Bartholomew Park Winery.
There will be a street party on 4th Street West directly in front of the hospital's entrance, which will be closed for the day, with fun events for kids including face painting and a Jolly Jumper, and the opportunity to explore a fire truck and ambulance. Chair massages will be available for adults.
"We want to show our gratitude to District residents for their wonderful support over the years," said Jane Hirsch, Sonoma Valley Health Care District board chair. "It's a true community hospital, created by and for the community, and it's fitting that we take time to celebrate that long relationship, which is the result of much hard work and the generosity of so many over the years."
This is the first large community event at the Hospital since the new wing was opened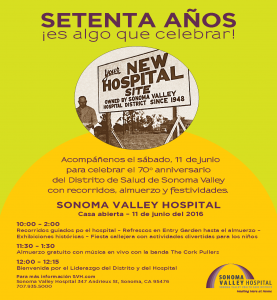 in late 2013. According to SVH CEO Kelly Mather, there have been a number of additional improvements since then. "We continue to improve the Hospital, including adding services and modernizing a number of areas to make them more comfortable for patients and visitors. Even if people were here for the 2013 opening event, there are new things to see and we hope they come by. We have an amazing Hospital filled with wonderful caring people," she said.
A Brief History of the District and Hospital
The Sonoma Valley Health Care District was formally created on March 22, 1946, following a vote by community residents who decided that the Sonoma Valley needed a modern Hospital operated under local control.
Health Care Districts came into being in California in 1946, responding to a shortage of hospital beds in the State following World War II. Today, there are 78 Health Care Districts throughout California, many of which are the sole provider of health care in their communities, according to the Association of Healthcare Districts.
Sonoma Valley Hospital is governed under the bylaws of the Sonoma Valley Health Care District with oversight by a publicly elected Board of Directors. The Hospital is supported primarily by revenues from services, augmented by taxpayer support in the form of a parcel tax, and by charitable bequests and donations through the Sonoma Valley Hospital Foundation.
Before the current Hospital was built, Sonoma Valley residents received care at a couple of smaller facilities, beginning in 1924 when local doctors persuaded a nurse and her husband, Mr. and Mrs. George Burns (or "Aunty Jo," as she was known), to put a couple beds in their home on Burndale Road for maternity cases. This facility, known as Burndale Hospital, grew over the next 20 years and served the community until 1945 when a local citizens group leased and remodeled the two-story building that is now Bartholomew Park Winery, owned by Frank Bartholomew who also owned Buena Vista Winery. This 21-bed hospital opened in 1945 and served the community until 1957.
In the early 1950s, community leaders proposed a larger facility on a downtown parcel located on Andrieux Street donated by August and Sylvia Sebastiani. This is the site of the current Hospital, and construction began in 1955 after voters passed a bond issue to fund it. It opened in January 1957 and has served the community at this site since then, undergoing expansion and remodeling several times with community support.
In 2013, the Hospital completed extensive renovation and upgrades to the entire facility as the result of passage of a $35 million general obligation bond, approved by voters to allow the hospital to meet California seismic standards and cover the cost of new construction and equipment. This was supplemented by a capital campaign that raised an additional $11 million to build a new wing housing a modern Emergency Department and Surgery Center which was completed in late 2013. The new Emergency Department handles the majority of emergency room visits in the Sonoma Valley and has seen an increase in use since opening.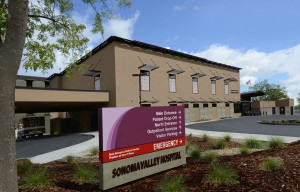 Over the past two years, the Hospital has continued to improve the facilities including remodeling patient rooms, adding new radiology equipment, expanding and modernizing a number of outpatient services, expanding the Occupational Health Department, and upgrading several public areas. Read the full story…
Sonoma Valley Health Care District
70th Anniversary Celebration
At Sonoma Valley Hospital
June 11, 2016
10:00 – 2:00 PM    Guided Tours of Hospital Every Half-Hour Starting at 10:30
                               Refreshments Served in Entry Garden Until Lunch
                               Historical Displays In Hospital
                               Street Party With Fun Activities for Children in Front of Hospital
11:30 – 1:30 PM    Complimentary lunch with Live Music Provided By The Cork Pullers
12:00 – 12:15 PM  Welcome by Hospital and District leadership
Note: 4th St. West between Andrieux and Bettencourt, directly in front of the Hospital
entrance, will be closed during the day. Hospital parking lots will be open and there is
street parking available in the area.