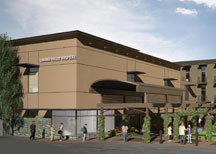 Greetings!
We are all delighted to extend to you a long awaited invitation.
After years of planning and revising and trying to find the money and then more revising, we are and have been, thanks to our wonderful community, well on our way to our new, upgraded, state of the art hospital.
The groundbreaking for our new wing is May 10, from 4:30 to 6:00. We hope you can come, hear about our plans, meet many of the people who have helped bring us to this point, watch our video about the hospital, stroll through our beautiful new Healing Garden and relax with some refreshment on our grounds. Our board members Madolyn Agrimonti and Bill Boerum will say a few words about how we've come to this point, and Mayor Joanne Sanders will speak about the importance of the hospital to the Sonoma Community and the good the City and the hospital can do together. I will share with you my vision of where we are now and where we're going.  I'm so excited we're all on this journey together. So please, if you can work it into your schedule, drop by!
Our other big news is less visible, but every bit as momentous.  We are making steaming progress with our Electronic Health Record. This is making it much more efficient for doctors to manage medication, share and manage reports, review patients' charts, and sign dictated reports electronically as well as trend lab results. The overall result, for the patient, is speed and accuracy of diagnosis and delivery of medication and coordination of patients' care. Over the next six weeks, we'll be really pushing.  When complete, we will quality for over $4 million reimbursement from the government.
Now, for all of those of you who feel you need to go out of town for specialty care take note: We now have, right here in town, thanks to our strong and growing relationship with Marin Sonoma IPA, a wonderful urologist, Dr. Harry Neuwirth, who is already treating Sonoma patients in the Prima offices on Mondays, for the full scope of urological services, including bladder, kidney and prostate cancer, kidney stones, incontinence, ED and more.  We also have an outstanding hematologist/oncologist, Dr. Peter D. Eisenberg, who is in the offices on Thursday. Also coming are Dr. Jason T. Huffman, spine surgeon, from Napa.
So that's how we are launching May.  Much progress, much excitement, and all for you!