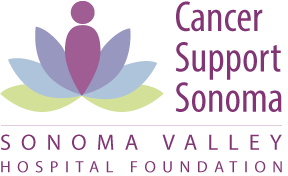 Sonoma Valley Hospital Foundation's cancer support program, Cancer Support Sonoma, is looking for volunteers. According to Program Director Pam Koppel, volunteers help provide a welcoming and supportive atmosphere for the clinic, including set-up for the day, checking patients in-and-out, changing linens between sessions, helping with administrative tasks and closing at the end of the day.
Volunteer shifts are Tuesday 9:30 am – 1:00 pm or 1:00 pm till 5:00 pm and Friday from 9:30 am – 12:30 pm or 12:30 till 4:00pm. Shifts can be once every week or every other week.  For more information or to volunteer, contact Cancer Support Sonoma at 707.935.5244, or by email infocancersupport@sonomavalleyhospital.org
Cancer Support Sonoma is operated by the Sonoma Valley Hospital Foundation in partnership with the North Bay Cancer Alliance. It opened last year within Sonoma Valley Hospital to provide complementary therapies, such as acupuncture and massage, to help ease the symptoms frequently associated with conventional cancer treatment.
The program covers its costs through donations and grants, and utilizes a sliding scale fee for patients. Services are made as accessible as possible in order to serve all who need them, and no one is turned away because of inability to pay.