We just completed the annual update to SVH's three-year rolling strategic plan. It's an important document that reinforces our mission and values, and identifies near-term objectives. This plan was developed by a committee of board members, physicians and hospital leaders. It's proven to be an invaluable tool in helping us stay focused on agreed upon priorities while identifying the tools to measure our progress.
We have done a great job in executing the strategies in prior years, but a lesson I've learned is that improvement is a process and not a destination. The plan provides an evolving view not just of the hospital's role, but of the challenges we must address in today's ever-changing health care environment. This year's plan addresses the following strategic priorities:
Achieve the highest levels of safety and quality health care.
Systematically identify new and enhanced service and revenue opportunities.
Continuously improve efficiency.
Support progress toward a Healthy Community.
Certainly, none of these are new ideas at SVH, but maintaining a clear focus on them spurs the discipline and creativity we need to continue making progress in each area.
This past year, for example, we focused on increasing access to physician specialists in Sonoma.  We've added two new general surgeons, expanded cardiology care, and added specialists in nephrology and podiatry.  More specialists are currently in the credentialing process because they say they love to practice at SVH.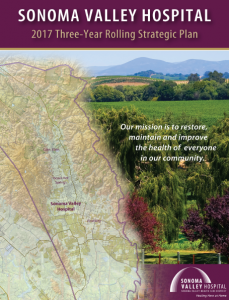 We focused our community outreach on improving the quality of life for our community with health screenings, education and partnerships. All the while maintaining excellent quality, safety and patient satisfaction outcomes. CMS (Centers for Medicare and Medicaid Services) placed us in the top 25 percent of hospitals in the nation for quality outcomes, which has earned us a bonus for the past two years.
You can find a copy of the 2017 Strategic Plan here. I encourage you to take a few minutes to read through it for a closer look at our plans for the coming year.
As Yogi Berra once said, "If you don't know where you're going, you'll end up someplace else." I am confident we know where we're going, and I trust that you see how we continue to make good progress in getting there, as this plan demonstrates.
In good health,
Kelly
Kelly Mather
President and Chief Executive Officer
Sonoma Valley Hospital